Zoom in the participatory virtual exhibition
Welcome to the SO-CLOSE blog. We are La Tempesta, the project's technical partners in charge of developing the three Digital Heritage Tools: interactive story map, immersive web-doc and participatory virtual exhibition.
We have decided to have a closer look at each one of the tools we've developed and today, last but not least, we dive into the participatory virtual exhibition.

We may say that the exhibition is the museums' storytelling concept and format par excellence. In its core, we find a selection of items organised under a shared topic, developing a narrative along the different parts of the display.
Taking this concept into the digital field, allows to curate and share collections on the web. D1.3 List of available tools report evidenced that virtual exhibitions are extensively used by museums, memory sites and cultural institutions in Europe, using multimedia and adapting the formats to the specific storytelling needs and also available technical skills. Also, another trend evidenced by the same report was that institutions launch crowdsourcing campaigns, to engage the audience and enrich the narratives with contributions from the public, though calls for mailing, specific platforms or surveys.
The virtual exhibition is a storytelling tool based on digital collections.
A traditional storytelling concept translated into a digital format and enriched with user contribution features. The SO-CLOSE virtual exhibition is a platform that aims to offer versatility to cultural institutions and to promote a collaborative approach through crowdsourcing initiatives, empowering communities to share heritage elements in selected exhibitions.
What can I do with the web doc?
Create participatory exhibitions combining text, multimedia and 3D objects.
Build exhibitions using 7 different display modules
Include a contribution form in each exhibition
Build a Gallery with media and objects, with a click
Enjoy the faceted search of the Gallery
Add a blog-like news feed area
Highlight exhibitions in the home page
Add 3D objects and display them with the integrated viewer
Add videos and audios
Compare photographs, side to side
Set your project style colour
Share your exhibitions with through the built-in social media buttons
Publish and share stories as accessible, multilingual and web-based projects.
Offer easy to reach accessibility settings: increase font, underline links, highlight links, increase contrast.
Achieve a WCAG 2.1 AA level
Display your project in different languages
Publish on-line
Showcase
In the Home page, there is a section for the project's description, the exhibition's section, the highlighted exhibition and a sample of the gallery items.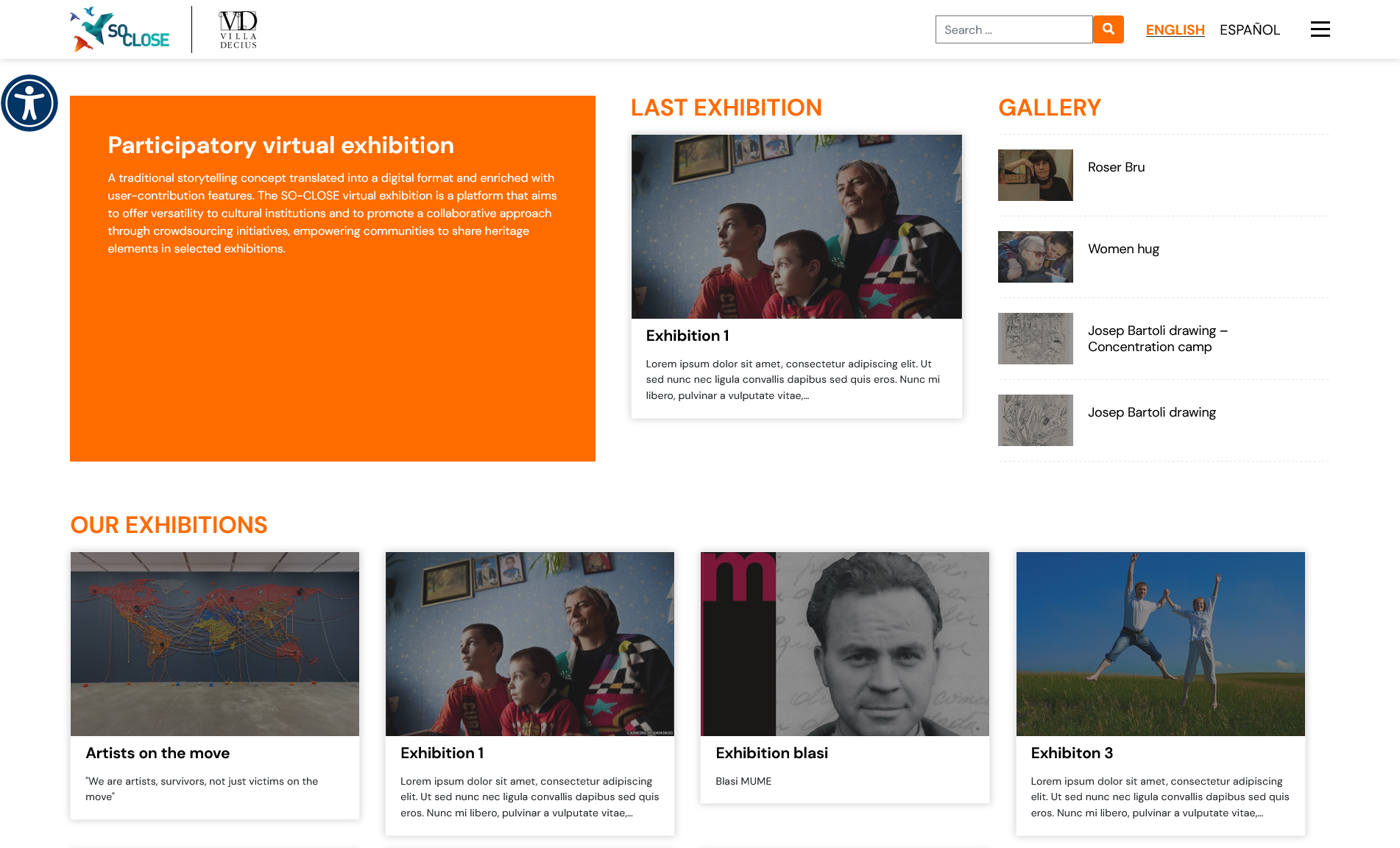 The exhibition opening looks something like that… you can set your own background image, title and text.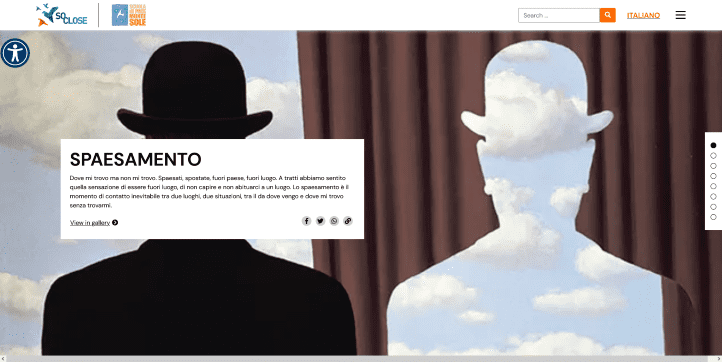 One of the exhibition's modules is the 3D gallery, including one or several 3Ds , accompanying text and the option of including an audio track.

Want to try the tools? Get in touch with us! contact@so-close.eu 😉