The Social Media Section has the purpose of allowing the user to search for social content on TWITTER and YOUTUBE and also allows the user to crawl articles and content from other websites, covering related topics on migration and refugees. The Cultural Institution (CI) user can perform the various searches asynchronously, i.e. launch the search and wait for it to finish after a few minutes.
By clicking on the specific Social Media section, the system shows the following page: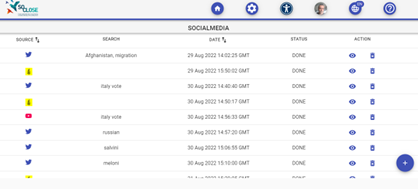 Fig. 1 – Social Media Subsection
This page (Fig. 1) contains a set of rows in which each one represents a search made by the user. It also represents the history of all social searches made by the current user and contains the latest crawling requests made for the 3 websites of interest. For each search, it is possible to view the search results using the "eye" icon and delete them using the trash icon.
When the user click on the "eye" icon, the MCP will show the social contents results for the specific search (in the example below Fig. 2 TWITTER search results for the search keyword "russian"):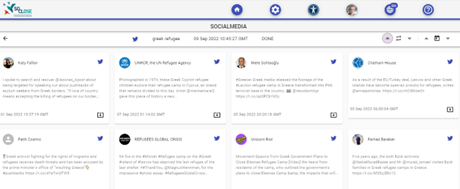 Fig. 2 – Search Results Page
Each block represents a result (in this case a tweet) which, when selected, displays the content of the tweet (Fig. 3).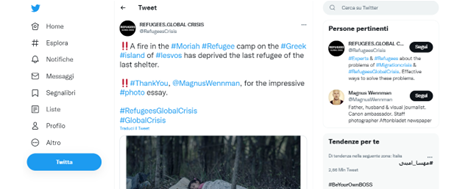 Fig. 3 – Content of the selected tweet
To create a new query, the user can click on the "Plus" button, then select the social network or website he is interested in and start the search by clicking on the search button.
For example, if the user needs to search for Twitter, they must select the Twitter item in the menu and enter the search key as in the following image:

Fig. 4 – New Social Media search
Then the user has to click on the "SEARCH" button to start the search. After the search has started, the MCP displays the status "RUNNING" (in progress) for the search process (Fig. 5).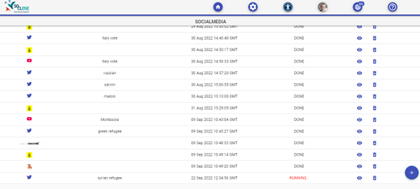 Fig. 5 –  "Running" Status
The search may take a few minutes to get a result.
Similar to social searches, it is possible to search the content of websites (articles). The next picture (Fig. 6) shows an example of website query results (Digital Culture).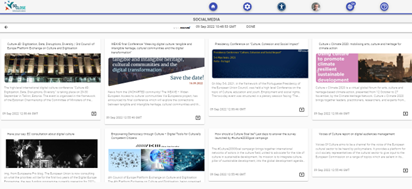 Fig. 6 – Example of search results on websites
By clicking on an item, the page of the related article will be opened.