As we have already said in a previous article, within the SO- CLOSE project the Memory Center Platform (MCP) is a software platform which represents the final archive of all the contents produced during the entire project life. Thus, MCP aims to preserve and manage the contents (video files, images, texts) that will be created within the project.

In order to achieve its main purpose of preserving the project content, MCP is connected and interacts with two other important software components: TOOLS and CRAWLERS.
Components that interact with MCP
 The TOOLS, developed by LA TEMPESTA, are a set of three web applications (Storymap, Webdoc and Exibition) that enable the storytelling of migrants and refugees through the production of web contents with different narrative metaphors.
Participatory virtual exhibition
All atomic content (videos, images, audio, etc.), after being officially published through the use of TOOLS, will be stored in the MCP and then made available to all MCP users with all the related information such as owner, rights, data production, etc. In addition, the MCP will also show the various complex contents, such as stories that contain the individual atomic contents internally.
The CRAWLERS, developed by CERTH, are a set of five software components that extract relevant content from social channels and websites related to the context of migration and refugees.  The crawlers for social channels extract content from the TWITTER channel in the form of Tweets and extract content from the YOUTUBE channel in as videos.
Standard web channel crawlers extract information and content from sites such as COURAGE Project, DigitalMeetsCulture and Amnesty International.
With MCP, users can search social and web channels for content they find interesting using MCP's search interfaces and can view the various results.
The following diagram gives an idea of the operational flow that exists between MCP, TOOLS and CRAWLERS to manage the content of the SO- CLOSE project.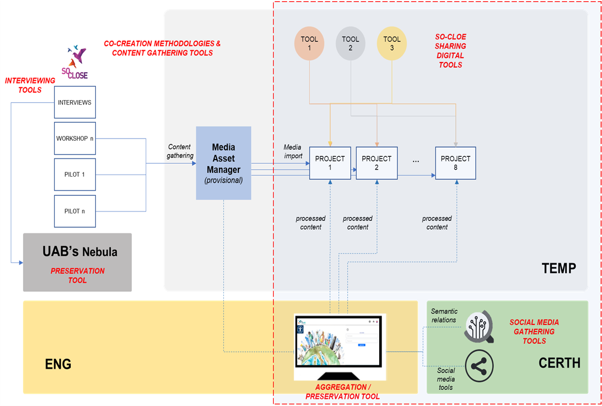 SO- CLOSE SW interoperability schema