MCP features overview:
The MCP is a software platform that was developed by the Italian partner ENGINEERING I. I. during the execution of the SO CLOSE Work Package 3.
MCP aims to preserve and manage the contents (video files, images, texts) that will be created during the pilot phase of the project.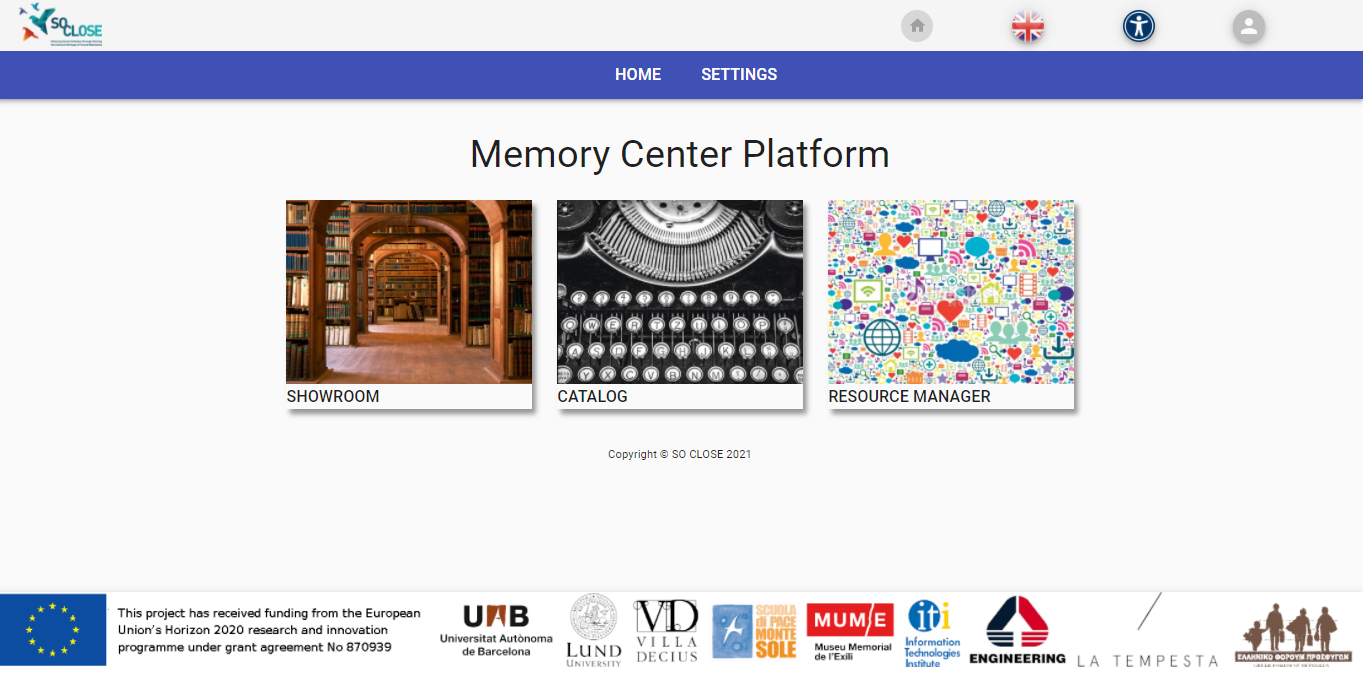 The MCP can be replicated in different places and that it can be used by public users or by cultural institutions with different forms of use and will give the possibility of:
Visualize the "projects" (storymap, webdoc, and virtual exhibition) that are made public by the TOOLS developed by the partner La Tempesta
Annotate the projects with additional information to allow you to create associations between similar stories
Store contents (video, images etc) from "projects"
Annotate the atomic contents with additional information to create new links between them
Provide content management services for Cultural Institutions for

Insert new content

Change the additional data for the contents

Delete user own content

Provide Cultural Institutions with the ability to manage the proper authorized users to manage contents
The MCP software architecture:
The MCP architecture is based on a software stack called MERN consisting of 4 technologies: MongoDB, Express, React, NodeJS all related to Javascript. The MERN architecture allows you to easily build a 3-tier architecture using Javascript and JSON, including the front-end view layer (React), the application layer (Express and Node) and the database layer (MongoDB)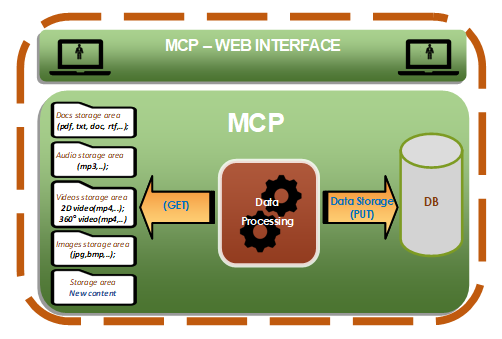 The whole system of the MERN stack, including the front-end, the back-end and the database, uses the REST APIs that are based on HTTP protocol and make very easy and advantageous to connect the layers together in the MERN stack.
In the MCP architecture, the back end is based on Node.js which is based on an asynchronous technology that offers above-average performance compared to the average of other languages.
The speed of MCP's back-end will allow its users to have access to data quickly and this makes it very competitive as users will not have to wait a long time for web pages to load.
The MCP front end is written with React.js software which is based on a single page web application that does not require page reloading when is working. This feature improves the user experience by retrieving content from a server in advance and thus reduces waiting times for the MCP final users.