Hi, here is Chiara Gunella from Mume.
This month we decided to introduce you to one of our WP4 activities. 
What is it about? We plan to organize a route with refugees crossing with them 4 different places that were incredibly important for refugees during the Republican Exile.
When? At the end of January/ Beginning of February.
Why? Because in 1939, the end of January and the beginning of February was the time a huge amount of civilians crossed the border to escape from the dictatorship of Francisco Franco, to seek refugee in France.
Why with refugees?  Because during the interviews and the Focus Groups with our participants it emerged several times the need to show and underline the shared experiences of exile lived by Republicans escaping from the dictatorship in 1939 and our day's migrants.
How? 
For each point of the tour there will be:
a) a very brief historical contextualization;
b) a historical testimony (either in person, audio or written) and
c) there will be a series of questions that aim to support reflection, and dialogue on current experiences of exile and on similarities and differences between the two historical moments.
The route will be recorded in different formats (360, photography, video, audio) to digitize it and capture each part of the route. The content afterwards will be uploaded on the virtual map, the digital tool developed by La tempesta.
Where?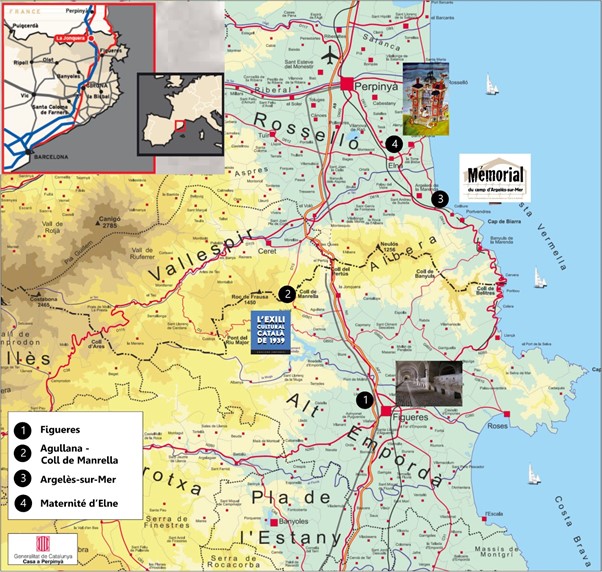 First stop. The trainstation of Figueres
The first stop will be in the trainstation of Figueres. Why was this place so important for refugees in 1939?
In the last days of January and the first days of February 1939 at the trainstation of Figueres the trains were assaulted by a lot of people who wanted to escape the imminent entry of nationalist troops. People entered the trains to reach as soon as possible a refugee in France. A huge amount of Republicans were trying to escape, to leave the country, to find peace with their families and friends in a new environment. This need for safety is still experienced by a lot of refugees these days and, as suggested by the participants of our Focus groups, there is an urgency to reflect on that. We aim tol create space for that during our route.
Second stop. Coll de la Manrella
The second stop will be Coll de la Manrella. Why?  More than half a million men and women crossed the Catalan Pyrenees to reach France by foot, and Coll de la Manrella was a crossing point. Coll the Manrella was crossed by  hundreds of refugees who passed through Agullana in February 1939. More recently, In 1981, this place was chosen to erect a memorial to Lluís Companys Jover, president of the Generalitat de Catalunya, who was executed by the Franco regime with the help of the Gestapo (Nazi political police) and the French government of Vichy. In recent years there are more and more borders to cross. During the route we want to listen to the protagonists of migration to know their perspectives and feelings around borders.
Third Stop. Argelès-sur-Mer beach
People who crossed the French border were often driven to concentration camps. One of them was the Argelès-sur-Mer camp. In 1939, Argelès-sur-Mer was a small agricultural village of around 3,000 inhabitants. On its beach the French government constructed a concentration camp to accommodate the Spanish Republican refugees. Argelès-sur-Mer camp was the first  concentration camp built in Roussillon and in a few months it housed over 80,000 people, in terrible health and hygiene conditions. The same is still happening today in many refugee camps. "Why?" is among the questions that resonate during the Focus Groups. The question will be investigated with a deep insight to our day's experiences in refugee camps during the route in WP4.
Fourth stop. The Elna Maternity.
Migration is also about solidarity and the Elna Maternity is a great example of that. What is it about? It was a maternity home created by Elisabeth Eidenbenz, a swiss volunteer that shocked by the situation of mothers and children amongst the refugees in Argelès-sur-Mer decided to convert an abandoned mansion in Elne (close to Argelès-sur-Mer) into a maternity home where refugee children and their mums were welcomed and attended. During the focus groups it emerged the idea to look at solidarity as part of our past and present cultural heritage and in our route we want to look at it, exploring past and present experiences of solidarity among our participants.