Hi,
here is Chiara from MUME.
This month, Our article is about artists on the move. People who crossed borders, lands, seas and painted, sang, and wrote their thoughts, their ideas, their pain, and their dreams.
During the Focus Groups and the interviews with refugees, one quote that emerged several times in different shapes was: "We are not just victims, we are artists, and resilient people". This article wants to address this quote and make you, the reader, travel among different pieces of art made by artists that in the past and the present create their pieces on the move.
Let's start from the past.
Mume, the Museu Memorial de l'Exili from the 3rd of February 2020 in June  2020 organized an exposition titled Art i exili. Artistes de l'exili català de 1939, "Art and exile, Catalan artists in exile in 1939", a temporal exposition on pieces of art made by Catalan artists who left the country around 1939. During this exposition were exposed pieces by Josep Bartolí and Roser Bru. Who are they?
Josep Bartolí was a painter, designer, and artist born in Barcelona in 1910 in a family that loved music and art. In February 1939, near the end of the Spanish Civil War (1936-1939), he crossed the French border. Over two years, he would pass through seven concentration camps, the latest was Bram, from which he escaped. He was arrested by the Gestapo, he was sent to Dachau concentration camp, but on the way, he jumped the train and fled, and after a long journey, he arrived in Mexico. He uses drawings to tell his story about the exile with special attention to his experiences in concentration camps.
Here you can see a drawing he did when he was living in a concentration camp.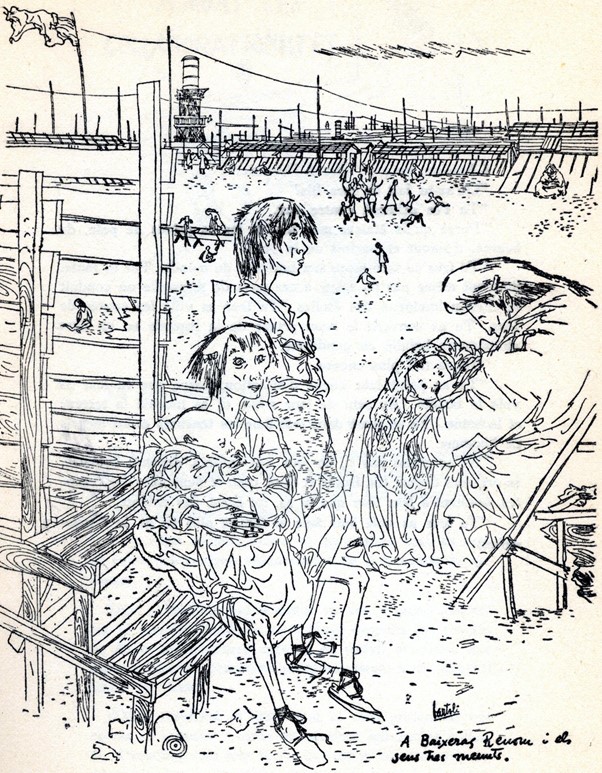 Description of the picture: Drawing in black and white of a concentration camp
Copyright: Josep Bartolí Guiu (Barcelona, 1910 – New York, 1995). A Baixeras Renom i els seus tres menuts. 1939. Ink on paper, 40 x 31 cm. Museu de l'Empordà (Figueres, Catalonia, Spain) / Fons Abelard Fàgrega. Ref. ME 1291.
Roser Bru, another protagonist of the Art i Exili exposition, is a painter born in Barcelona in 1923. The following year her family went into exile in Paris, as a result of the dictatorship of Miguel Primo de Rivera. Four years later, they returned to their hometown. After the Spanish Civil War, in 1939, she moved back to France, where she embarked for Chile where she lived in her exile. She arrived in Valparaíso on 3rd September of that year. In her paintings, Roser Bru "speaks" about exile, politics, and women.
Here you can see Roser Bru in her workshop.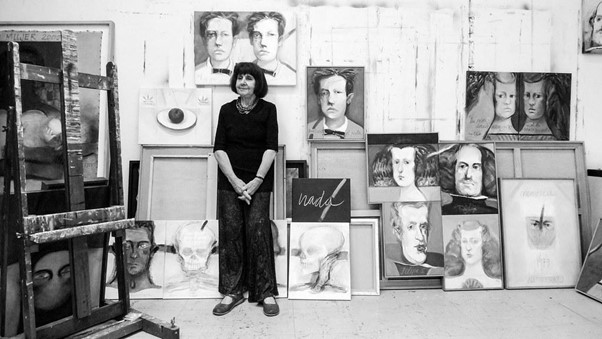 Description of the picture: the artist Roser Bru in her workshop surrounded by her art pieces .
Copyright: Creative Commons
Jumping to the present, Laila Ajjawi is a graffiti artist born and raised in a Palestinian refugee camp outside of Irbid, Jordan. Her work focuses on visibility for women living in the Middle East, particularly refugee women facing discrimination and limited resources in their countries of residence. She stated several times that she uses art to express what she is not allowed to say with words. She is part of a new movement: the artivists. People who mixed activism with art. You can follow her on instagram and discover her world.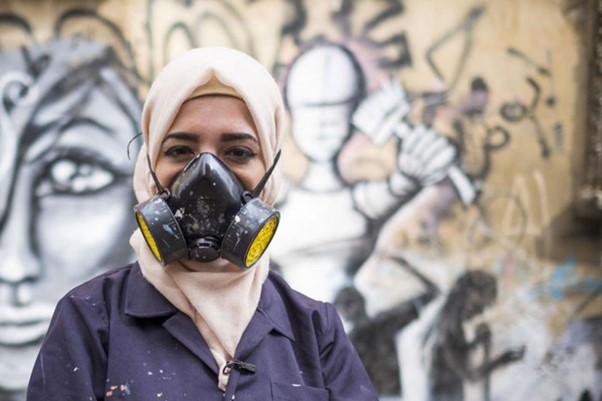 Description of the picture: Laila Ajjawi in front of o a graffiti with a graffiti mask on.
Copyright: Creative Commons
Going back to the past, if we want to have a look at poetry we should jump into the life of Carmen Castellote. Who is she?
Carmen Castellote was born in Bilbao in 1932. In 1937, in the middle of the Spanish Civil War, her parents embarked her on one of the evacuation campaigns for children organized by the Second Spanish Republic. She was sent to Leningrad, in the Soviet Union, where a lot of Spanish children were living in the "Children's Houses". With the outbreak of World War II in 1941, she was evacuated to Siberia. In 1958 she traveled to Mexico to meet again with her father, who had gone into exile after the civil war, establishing his permanent residence there. At the age of 40 she published her first book of poems. A container of thoughts about war, love, and exile Here you can have a bite of it in her poem "The war and I", "La guerra y yo".
You can read the text here: Read my text, "La guerra y yo".
Carmen is not the only one that expresses through poems her fear and hope for the future.   Warsan Shire, an artist of today, did the same with her poem Home. Who is she?
Warsan Shire was born on 1 August 1988 in Kenya to Somali parents. She migrated with her family to the United Kingdom at the age of one and during her adolescence she started her journey into poetry. Her words "No one leaves home unless home is the mouth of a shark", from the poem "Conversations about Home (at a deportation centre)", have been called "a rallying call for refugees and their advocates".
You can listen to the poem with subtitles here: Listen to the poem "Home"
Or read the text here: Read the poem "Home"
Home sounds like a word that accompanies all of us, the feeling of being at home, staying at home, or leaving home. Three our days storytellers Khamal Iwuanyanwu, Sarina Morales, and Vanessa Tahay, performing at the 2016 Get Lit Classic Slam in Los Angeles reflect on their experience of migration in their three-voice poem "Standing in Between" and their final quote regards home, "We all want to get home, but where do we go?"
You can watch the video with subtitles here or listen to it here: Standing in Between
They are all artists on the move from the past and the present.