The SO-CLOSE project is coming to an end. It has been three eventful years in which we have learned a lot, created beautiful and engaging exhibitions, and built strong networks for even more exhibitions and projects to come. Cultural institutions, educational and research centers, as well as citizen initiatives that want to contribute to the heritage of migration will soon have open access to our three digital storytelling tools as well as the MCP to advance the identity-centered debates and foster shared understandings around the experiences of migration. To learn how to get started with the tools, we are currently working on a How-to manual for the implementation of SO-CLOSE's digital storytelling tools, that will soon be available on our website.
The manual focuses on the process of co-creation and introduces important concepts that guide users in defining their story ideas, assembling networks and participants, collecting and selecting content, and finally engaging their target audiences with the stories. The manual is split into four phases:
Phase 1: Self-assessment
A critical self-assessment of the user's expectations, resources, and skills sets the scene for realistic and successful implementation of the tools.
Phase 2: Co-creating cultural heritage
Co-creation of cultural heritage involves diverse groups to foster exchange between migrants, local citizens, and institutions to ensure fair and equal participation, and result in representations of experiences that are both respectful to the source and captivating to the target audience.
Phase 3: Defining the narrative and creating digital stories
Each tool offers different narrative structures. Underlined with examples, Phase 3 highlights the main storytelling features of each tool for the user to choose the right one for their story.
Phase 4: Sustainable implementation of the final stories
Phase 4 introduces three options for long term tool implementation, each with a different approach to engaging audiences and fostering various opportunities for discussions of cultural heritage beyond the digital.
On December 14th, 2022, we will hold a showcasing event for all interested parties to get even more practical insights into the implementation of the tools:
How to connect narratives of past and present experiences and contribute to the creation of a shared heritage of migration
How to foster an inclusive, accessible, and intersectional environment for co-created narratives
How to navigate the tool shells and use them to create digital stories
How to embed the digital tools in physical spaces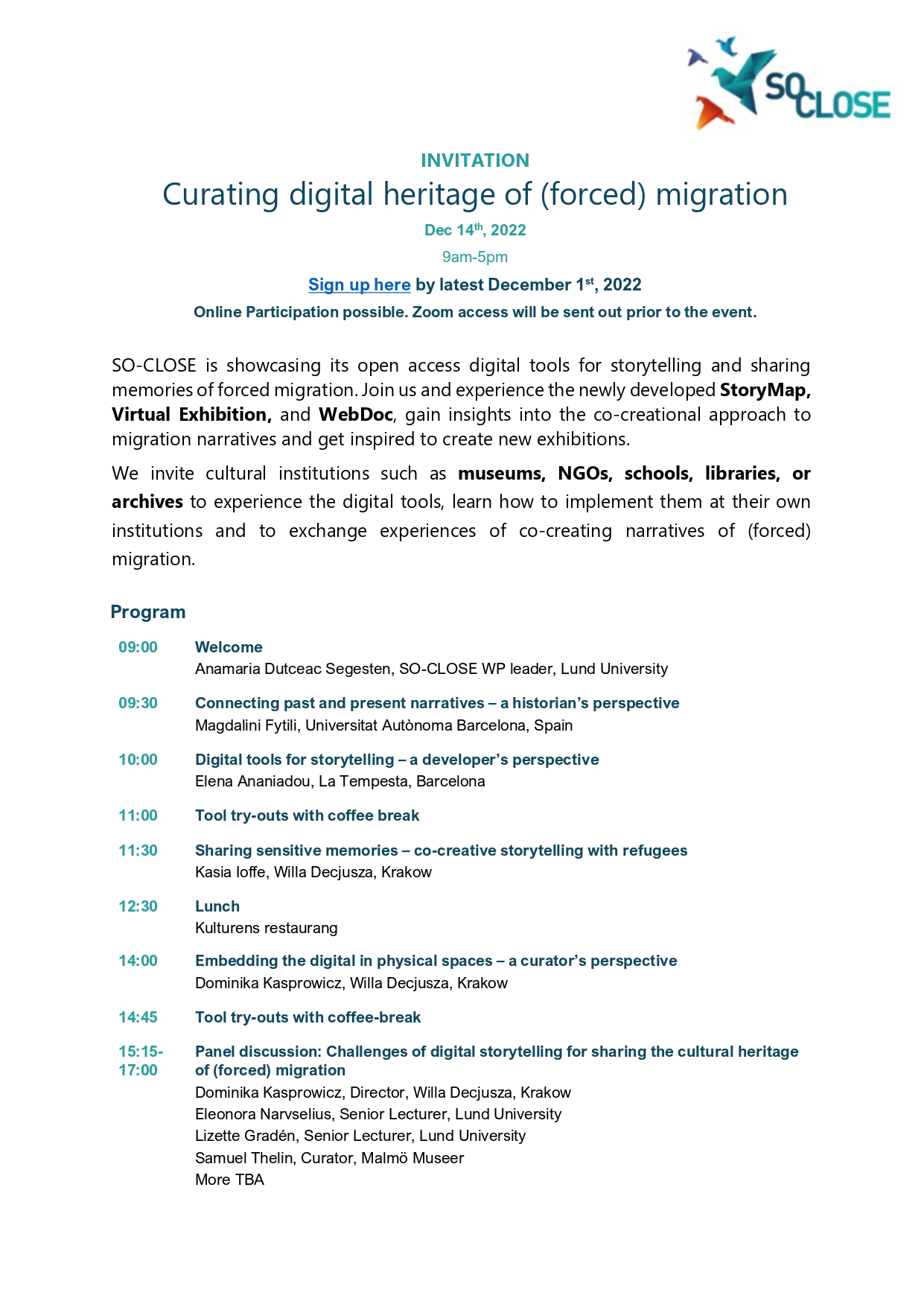 We look forward to having you with us for engaging discussions, interesting insights, and exclusive try-outs of our newly designed SO-CLOSE digital tools for cultural heritage sharing.